News and Events
Committee - Update
Our treasurer, Phil Holden, has given notice of his intention to stand down after the AGM in November. He is happy to stay as a committee member and to give any necessary training to a new treasurer. It would be nice to replace him with an existing Sound East member. It is not a very onerous job, with committee meetings every 6 weeks on a Tuesday evening at the studio. If anyone feels they could join the committee and take on the job please contact the Chairman on Lowestoft 581823 or email scase954@gmail
Annual 3-Way Quiz
Our Talking Newspapers annual 3-way quiz,(hosted this year by 3 Rivers) took place at Bungay Golf Club on Monday 20th March 2017. It proved to be a very enjoyable evening and included a lovely buffet. Sound East, Three Rivers and Grapevine provided teams. This year it was a Grapevine team who won the trophy. Actually it was a very close finish - requiring a tie-break series of questions. Those two teams had scored 98 points each. One of our Sound East teams took 3rd place with 95 points.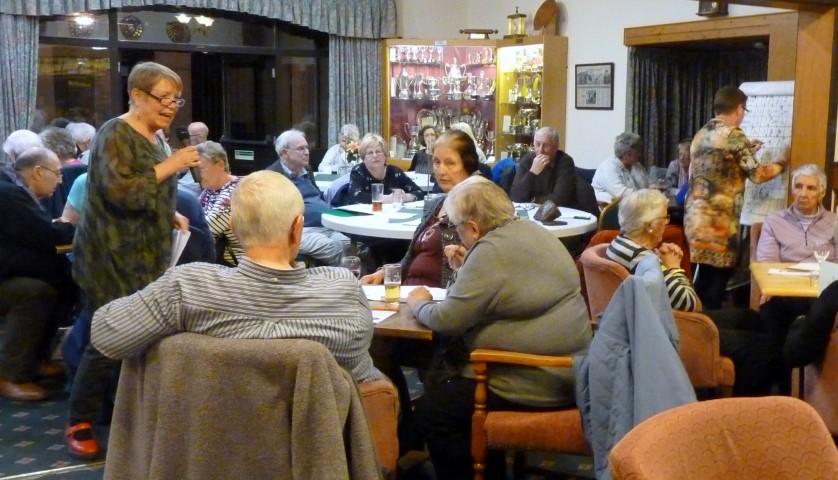 Updates
If you have a function coming up in the Lowestoft area which you think would be of interest to our listeners please let us know so that we can put it on the Informer tape.
You can email us at: soundeast@xln.co.uk
Our contact number is: 01502 539656
British Wireless for the Blind
We now send our recordings to the British Wireless for the Blind and they are available to listen to on their radios for members. You can find more information about the British Wireless for the Blind here.
Hospital Radio Yare
Did you know that our weekly news recordings are sent to Hospital Radio Yare and played during the evening once a week? You can view their Facebook page here.
Don't forget...
Don't forget that Talking Books don't work with our equipment, due to the technical requirements. The USB sticks with the Talking Books on require equipment that has more power than that supplied by Sound East.
Thanks to...
November 2015: Sound East would like to thank the Lowestoft branch of the Norwich and Peterborough Building Society. As part of the Yorkshire Building Society Charitable Foundation 'Small Change Big Difference Week' we were nominated as a local good cause to be considered to receive funds, and as a result we received a cheque for a donation of £100.
Many thanks to those who nominated us (customers, colleagues and members of the public are able to make nominations) and to the local branch for making the donation. It is greatly appreciated!